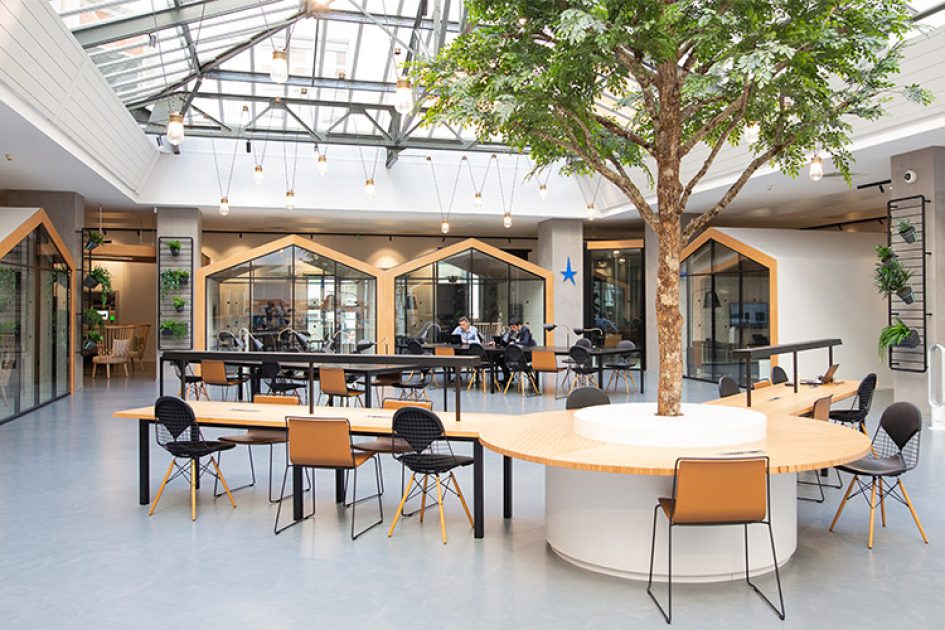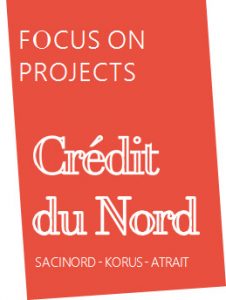 Crédit du Nord's headquarters, connected to a large branch, is located in the heart of the capital of the "Hauts-de-France". The financial institution recently decided to make this "Lille" branch its flagship; an example for its other branches to replicate; a model that breaks all the traditional rules of the banking sector. The management's objective was to create a 1,300-m2 space synonymous with openness and transparency  in terms of company projects and exchanges, and be able to offer new services; a place where clients, advisors, administrative staff, and partners can meet, work, discuss, and learn together. In short, a space just like Crédit du Nord, a bank that is part of its region's economic life, and goes well beyond its original job. Ingerop and Atrait, an interior design firm, rose to the challenge by successfully creating the Lille branch—a bank branch for today and tomorrow.
Upon entering Crédit du Nord's Lille-Rihour branch, the spirit of the place  can be felt immediately. Everything is open and transparent, from the workshop's huge glass roof to the small "cabana rooms". It is completely unprecedented for a bank. Everything (or just about it) is accessible to all employees branch , clients, and prospective clients.
STANDARD H7 PARTITIONS – TRANSPARENCY
A "wow factor" guaranteed
The forum (photo 3) is fitted with a large retractable screen for hosting in situ conferences, screenings, or events. The kiosk (photo 5), a large bar, serves drinks during events. The central agora (photo 1), equipped with large worktables, is open to branch advisers as well as visitors who need to sit and work for a moment. The lodges (photos 1-2), strange little structures made of wood and glass, provide privacy for more silent discussions with clients.
The branch's only limited-access area is called the workshop (photo 6). Sheltered by a large glass wall, the open space serves as a collaborative workspace for advisors.
There aren't any designated offices in this space. Like nomads, everyone moves around freely from one space to another.
"In addition, there are the clubs (photo 4), VIP lounges enclosed in glass, where our advisors receive their top clients in comfortable, soundproof spaces, as well as the hive (photo 7), a place for collaborative creation made readily available to us, our clients, and our partners," explains the Crédit du Nord (Nord-de-France) logistics and organization manager.
"Our objective was to use this space as a medium to bolster the bank's transformation and propose an innovative concept. Various employee teams reflected for months about what our clients expect from a physical branch, and this is the fruit of that labor," says the logistics manager.
A bank branch where you feel at home, welcomed into enclosed glass cabins that blend privacy, brightness, and openness to the "outside", converted into cozy lounges and offices. The workspaces are designed to promote a collaborative atmosphere that combines performance and goodwill.
"The concept was actually invented by the architects of Crédit du Nord," explains the architect in charge of the project. "We took over the reins and found the aesthetic solutions to carry it out. We designed atypical spaces like the lodges—little huts made of glass and wood where small committees can maintain their privacy. Our aim was to use glazed modular partitions with lightweight industrial-like framework throughout the space—combining ease of assembly and sophistication. We chose the H7 Transparence partitions, which in my opinion were the only ones suited to building our little huts. The frames are very slim and elegant. With regard to the roof junctions, we wouldn't have been able to achieve as sharp an angle with another product while maintaining high acoustic quality. The same goes for the entirely glazed VIP lounges, for which we used 3-meter high partitions placed side by side."
For the perfect combination of beauty and acoustic performance, the VIP areas have beautiful black doors fitted with transoms. "We recommended a special coating for these doors—a layer of velvet-like laminate that the manufacturer Hoyez managed to create for us in time," says the Atrait firm. At the back of the huge branch, the workshop seems strangely void of any storage space despite the presence of employees. "Actually, we designed a base cabinet that provides 16 meters of linear storage. The Hoyez partition provided an advantage once again: the aluminum frames are very light,  so we were able to place the partitions on top of the wooden furniture," adds the architect.
The impression of lightness is emphasized by the thin frame—the size of 2 euro coin—which supports a glass wall that is over 2 meters high.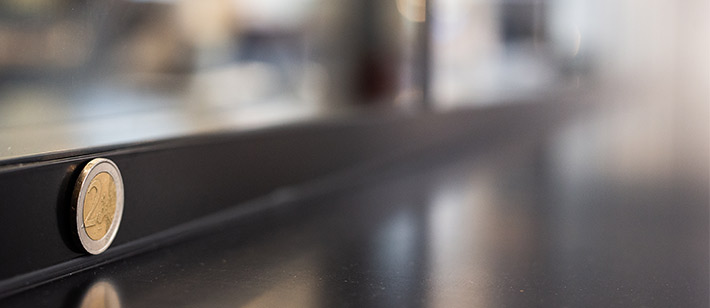 "We are delighted with the results," smiles the contractor. "The reactions are really positive. The Lille-Rihour site definitely has the wow factor. It's totally consistent with our image and the messages we want to convey."
THE OPINION of our partner DISTRIBUTOR & INSTALLER :
Roger Vanderstraeten,  SACINORD*
"The Korus firm entrusted us with installing the modular partitions for this project, and we were given a very precise bill of specifications. The operative word being transparency, we had 250 m2 of H7 Transparence partitions to install in 3 weeks. It wasn't all that complicated, since we were already familiar with Hoyez products.
We cut the partitions for the lodges (cabanas) on site, so  that they would fit the wooden roofs perfectly. To fit the workshop's glass wall, we used 4 to 500 mm wide modules with black sections, giving the whole space a very workshop-like look. The VIP lounges were built using side-by-side double-glazed partitions measuring 3.2 meters high. Even this extraordinary height posed no problem, as we simply had to respect the DTU 39 and use 66/2 – 13 mm tempered glass. In fact, what's great about Hoyez partitions is that they allow total freedom. Architects can give free rein to their imaginations, which is what they did!
*A family business that employs a dozen people, Sacinord was created in 2001 by Roger Vanderstraeten. A former construction manager at Hoyez, he has expert knowledge of the products manufactured by France's modular partition specialist.
Do you have a fit out project ?
Don't hesitate to contact us, we will come back to you asap.