Office partitions
Removable, our differents office partitions systems can be the solution for all layout requirements, either aesthetical, technical or practical.
Office partitions are the better way to organize space with 3 important conditions : 
Acoustic comfort

Space flexibility

Employees wellness
#1.
Acoustic office partitions
Partition systems is non acoustic suffisant for you work spaces. It's important to remember that you have to think about acoustic floor, ceilings and doors.
Some sectors are extremely sensitive to acoustic issues : Bank, assurance… That's why you need to choose office partitions system that are acoustically certified.
If you are facing this kind of issues, think about 3 things: 
Partition fillings
hOyez office partitions are available with different fillings :
Solid partition with double panels

Glass partition or half glazed, with simple or double glass 
The acoustic result will be different between simple glass or double glass filling. An office partitioning with double glass will be the better solution to set up.
Partition thickness
You can find 4 thickness levels in office partition systems.
HT partition : 30mm
H5 partition : 60mm
H7 partition : 75mm
H9 partition : 96mm
Frame thickness offers superior acoustic level. If your project have high acoustic issues, you need to choose H7 or H9 partitions instead of H7 ans H5 office partitions. 
You need to know : H7 partition have changed considerably in the past years and can achieve H9 acoustic level.
Acoustic certification for partitions
If you are leading  an office partitioning, you need to check partition acoustic certification. You can find our partitions acoustic level thanks to these certifications. 
Don't hesitate to compare our different office partitions acoustic levels.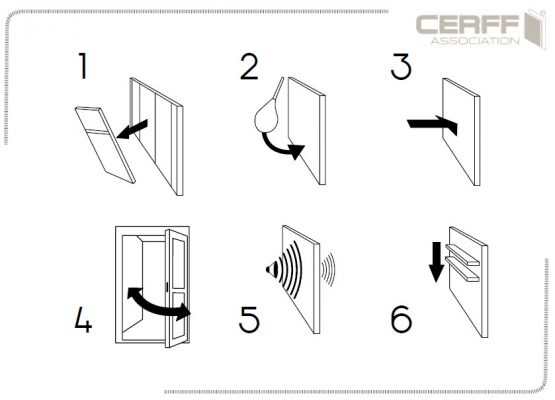 #2. Flexible office partitions
The second of the most important benefit of office partition systems is flexibility. Profiles assembly goes quickly without difficulty. 
Partitions are made with replacable easy to assemble and admit cut profiles perfect to during the installation without dust or noise.
The perfect solution for : 
Actors : project managers are looking for a quick execution when they are working on short building projects. 

Final customer : our partitions flexibility is extremely useful on established site. You can fitout space per zone highly reducing temporary embarassment for customers or employees. Then, you don't have to stop your activity.
Hoyez's office partition systems are certified CERFF for layout disassembly and flexibility.  (Picture 1)
#3. Employees wellness
Many companies choose partition systems to isolate your offices. To separate chief offices from open space, to create meeting rooms, or to make any other individual space  … 
It's important to daily keep employees privacy. You could set up glass office partition systems, perfect match between visual link an privacy. 
Keep note: hOyez's office partition systems can be customized with sticker or venitians blinds.
Office partition systems projects